Front and Back Cover Images
IMPORTANT NOTE TO THE READER:
Author Susan Zimmer is also the National bestselling author of her previous self-published book titled: Cappuccino Cocktails & Coffee Martinis – Specialty Coffee Recipes and "A-Whole-Latte" more! - which is now out-of-print. After selling 40,000 copies on her own, Andrews McMeel Universal has now replaced it, and published the ALL NEW I LOVE COFFEE! Over 100 Easy and Delicious Coffee Drinks.
Front & Back Cover I LOVE COFFEE! book flaps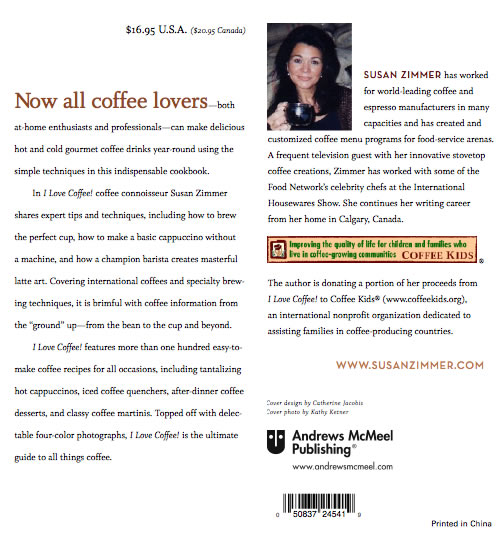 Book Description
Now ALL coffee lovers - both at-home enthusiasts and professionals - can make delicious hot and cold gourmet coffee drinks year-round, using the simple techniques in this indispensible coffee guide and recipe giftbook.
In I LOVE COFFEE! Zimmer shares over 20 years of coffee connoisseaur experience, such as:
Expert coffee-making advice, professional coffee tricks and techniques from "how to brew the perfect cup" to step-by-step instructions/photos on "how a World Barista Champion (Sammy Piccolo) makes masterful latte art designs!


This one-of-a-kind coffee book is brimful with a wealth of coffee understanding from the "ground" up, from bean to cup, including international coffees and brewing techniques best suited to a variety of coffee taste preferences.


Zimmer shares her one-of-a-kind unique, money-saving top secret of "how to make a basic cappuccino or latte WITHOUT a machine!"


Many "How to" chapters with professional coffee secrets are shared making it an ultimate "how-to" handbook for the 111 million coffee drinkers in North America.


111 international coffee drink recipes for all occassions, including tantalizing hot cappuccinos, iced coffee quenchers, delectable after-dinner coffee drink desserts, and classy coffee/espresso martinis (alchoholic and/or non-alchoholic).


Some of these easy-to-make coffee recipes include: Tiramisu Martini, Good-for-You Cappuccino, "Spooktacular" Seven-Layered Latte, Fake-a-Frappecino, World Barista Champion's award-winning "Café Calabrese" and . . . a whole latte more!


A complete guide to buying, storing and grinding coffee beans.


Pros and cons of all types of coffee and espresso makers.


Amusing anecdotes and entertaining coffee quotes.


Plenty of problem-solving tips and educational trivia.


Full-color photographs are sprinkled throughout.


A must-have giftbook for ALL coffee lovers!

Pricing & Information
I LOVE COFFEE!
Over 100 Easy and Delicious Coffee Drinks
U.S.: $16.95
Canada: $16.95
ISBN-13: 978-0-7407-6377-9
ISBN-10: 0-7407-6377-6
Author: Susan M. Zimmer
Publisher: Andrews McMeel Publishing
Format: Paperback
Published: March 2007
Category: Cooking / Cookbook / Giftbook
Detailed Specifications
I LOVE COFFEE!
Over 100 Easy and Delicious Coffee Drinks
Territory: North America/United Kingdom/Australia/New Zealand
Trim Size: 7 1/2 x 7 1/2 in
Page Count: 240 pages
Product Weight: 21.00 oz
Case Quantity: 30
Case Weight: 637.00 oz
Case Dimensions: 8.00 h x 15.75 w x 10.00 d
Publicity:
* Celebrity Chef Susan Zimmer will be participating at Cooking Theater stage/International Housewares show/ Chicago/March 2007
• Advance galley mailing
• Author appearances
• Review copy mailing targeting food and cooking media
Table of Contents
Acknowledgements
Introduction:Let's Do Coffee ... or an Espresso Martini!
PART I: BEAN AND MACHINES

Chapter 1: The Wondrous World of Coffee
Chapter 2: Coffee Machines and Brewing Techniques
Chapter 3: Espresso Brewing Techniques and Tips
Chapter 4: Making Coffee Drinks

"How to" Steam and Froth Milk with a Machine
"How to" Assemble Basic Espresso-Based Beverages
"How to" Steam and Froth Milk WITHOUT a Machine!
"How to" Make a Basic Cappuccino or Latte WITHOUT a Machine!
"How to" Make a Cappuccino with an "All-in-One" Machine!
"How to" Make Masterful Latte Art!

PART II: RECIPES

Chapter 5: Hot Coffee Drinks
Chapter 6: Iced and Blended Coffee Drinks
Chapter 7: Coffee and Espresso Martinis and Coffee Dessert Drinks
Chapter 8: Seasonal and Holiday Coffee Drinks
Chapter 9: Coffee Syrup and Whipped Cream Recipes and Tips

Coffee-o-logy Glossary
Sources and Resources
Bibliography
Recipe Index
General Index
Coffee Recipe Sample Gallery
"How to" Make Basic Latte "Heart" Art!

When a cup of coffee becomes masterful art, thirst is perfectly optional.

"How to" Make a Cappuccino or Latte WITHOUT a Machine!

Fake-a Frappeccino

Oh, "Frappe Days" are here again!

Coffee "Fruit" Cocktail

Isn't a coffee-style fruit cocktail – a "berry" good thing?

Coffee Sands

Smooth and simply sensational!

Zimmer's Signature Frappetini

Intoxicating, addictive and perfectly legal!

P.F. Chang's Orient Express Martini

An Award-winning coffee drink of Asian fusions.


Recipe courtesy of:

"Spook-tacular" Seven-Layered Latte

Halloween latte lovers will howl-as much fun to drink as it is to make!